Create the ultimate home theater with Sound Ideas. With a single touch of the remote, the lights dim, the curtains open revealing the screen, the temperature adjusts, the Audio Video components turn on, the correct input on the surround sound processor is selected, the volume is set and the movie server or satellite receiver or Apple TV begins to play your movie. All of this can happen with the push of a single button on an integrated remote, a touchscreen, an iPad or even your cell phone.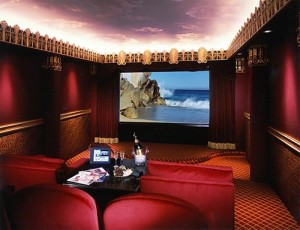 Sound Ideas puts you in complete control right from your favorite seat in the home theater. For movie lovers, nothing can compare to the experience of the highest definition video, on a giant screen in a dedicated room with even higher performance than a commercial theater all in the comfort of your own home.  Great sound played on a fantastic sound system conveying the full impact of a sound effect, the subtlety of dialogue or the enveloping warmth of a lushly orchestrated soundtrack. How about using your dedicated home theater to watch sports? Sunday or Monday Night Football, Super Bowl, Olympics, World Cup – you name it. For a sports fan, nothing can compare to the experience of watching your favorite sport in your theater. Let your high definition video and great sound system put you right in the center of the action.
Sound Ideas offers unlimited possibilities for the home theater experience.
We are experts in all phases of home theater design, equipment selection, installation and control. We will take your project from design to completion. We offer custom designed acoustical environments and the best in audio and video performance. Looking for something a little less involved? No problem. Sound Ideas brings a dedicated team of professionals to your project to deliver the best possible home theater experience, whatever your budget may be.